Storage
Extra long storage shelf
Goods stored in a warehouse must have suitable conditions under which they will not deteriorate or lose their properties and can be safely loaded and unloaded. The proper adaptation of the warehouse and its specifications to the type of goods stored in it is an obvious and fundamental issue. How to store various things in a warehouse is taught by Logitower. Warehouses that intend to keep pipes, long metal sheets need an extra long storage shelves. This organisation means that the goods can be protected from damage. Ensuring the continuity of production and the delivery of goods to customers requires appropriate organisation, which a warehouse with extra long shelf certainly helps with.
Sheet and pipe storage system – how to approach it?
Long goods require strict storage rules. Storage buildings should be adapted to the physical and chemical properties of the products. In addition to buildings, racking systems are important. Logitower systems are among the best in this respect. The designers adapt the LogiTower system design to the conditions and dimensions of the warehouse, making use of the full available room height. Each LogiTower automatic storage system is designed individually for each customer. As a result, companies looking for a turnkey solution tailored to the products they store are guaranteed ergonomics and the saving of valuable space, enabling it to be used more efficiently, up to 12 metres long!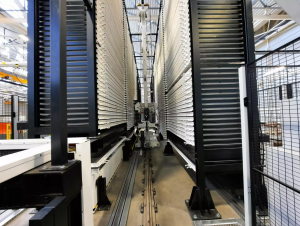 Automated shelving – advantages and features
increased storage capacity
balanced stock holding
retrieval systems, known as ASRS or AS/RS
precision, accuracy and speed
safety of employees and goods up to 12 metres long
organisation of goods by category and time of issue