Storage
Construction material storage
Construction materials are unique items to store, so a few basic rules should be followed to keep them safe. Typically, construction material storage should only take place in designated areas that are suitably level. Also important is how to prevent piles of materials from toppling, sliding or sliding apart. Learn some basic principles and solutions we can apply to building material storage.
What NOT TO DO regarding building material storage
There is nothing worse for building materials than adverse temperature and other unfavourable conditions strictly atmospheric, as well as poor storage. All these risks lurk not only during transport, but also during the warehouse itself. Storage areas that are located outdoors are for materials that do not deteriorate when exposed to the weather. Fine-sized products are stacked in levels on wooden pallets. A major risk to goods, as well as to warehouse workers, can be a failure to comply with health and safety rules. Enclosed warehouses are temporary site development facilities that must comply with these conditions. In addition, it is advisable to stay with the traditional way of stacking goods when storing these types of elements. A far better and easier option is the ready-made Logitower automatic shelving units, which have no room for error or inefficiency.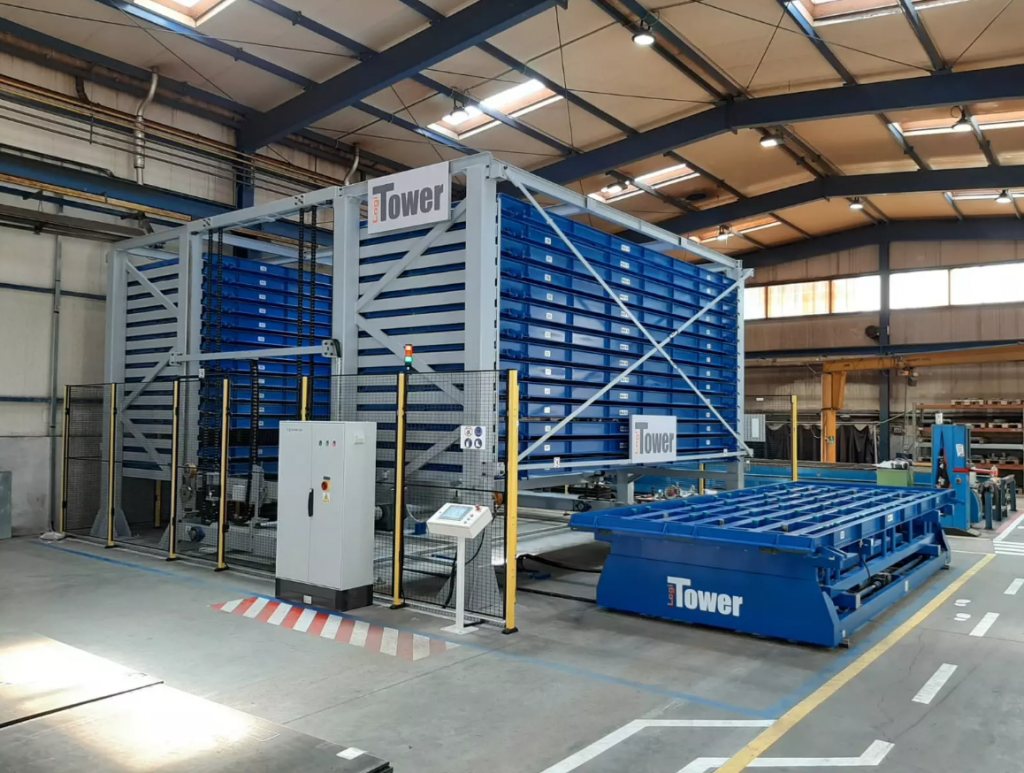 What TO DO regarding building material storage
Properly preparing the warehouse before bringing building materials into it is the first step to success. If you are on the right track in terms of knowing the capabilities of your warehouse, you should move on to organising the space with shelving systems. Logitower leads the way as the best provider of automated solutions. It is worth mentioning that this is crucial, especially when working with heavy and construction materials. If you are not equipped with the right tools and materials, this can lead to delays in the development. For building material storage, two solutions are ideal. Firstly, the LogiTower double-sided automatic storage system, as it has great potential for retrieving goods from both sides of the racking. It can be adapted to separate the loading and unloading areas if necessary. This model is ingenious in that it contributes to streamlining and speeding up processes both inside and outside the warehouse. We can store very heavy items such as metal sheets, bars, pipes and machines, grabs, and demolition tools. Another solution is the Logitower double tower, a solution chosen, among others, by customer Arden Equipment. This is an interesting option as to how the system can be optimally adapted to the existing warehouse conditions, the type of goods stored and the limited space.
Summary: Finally, why is it important to organise and store building materials?
Organising building materials may seem difficult, but it makes the effort worthwhile. What's more, modern, automated solutions allow you to manage goods faster and with greater efficiency and make the best use of space. Establish safe procedures for carrying out storage tasks before work begins and you will be sure to provide a friendly environment for machine operators and protect goods properly.